Are We The New Babylon?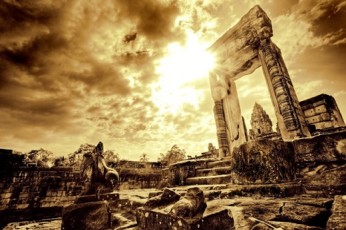 Well are we? I am thinking of the United States when I say this. Babylon rose to the status of empire twice. Once around 2000 BC and again around 500 BC. At these times it was the cultural center of a large portion of the world. I also like to think of Babylon, because it was a pivotal kingdom in the Old Testament or Torah. It represents throughout the Bible how an empire can be glorious and so quickly only become a fabled story just a few generations later. Babylon stands also as a symbol of arrogance. The tower of Babel was built in what would be a part of the Babylonian empire, and the city of Babel would be its capital. Babylon had a legal system that seemed to systematically mete out unfair justice depending on the particular crime and the accused. Babylon's story itself is not that different than other empires throughout the World's history. It is one of the oldest, and in a way, it is the original history that keeps repeating itself in future empires.
This was going to be a much longer post, but I lost my train of thought. The question stands though, are we the new Babylon or Rome. Societies that rose to such power based on principals that later were lost and then they crumbled into something that only shared the name of the original. The United States once stood as the greatest society of the modern era. Not only were we pushing limits on technology, but we were a society where people were allowed freedoms that seem extreme to the rest of the world. People thrived in our culture. I think when the United States stood up to tyrants around the world, we lost what made us unique. We started to fear what the world had to offer, and we started to strip our society of the freedoms that made us great for the fear of what might happen. The great depression further exacerbated the situation. A couple of generations never wanted to fear the loss that was experienced during that time. The end result is taking away risks, which is the same as taking away freedoms. They go hand in hand. When you take away risks in an effort to make things better without the effort imparted by the people who benefit, you end up with societal losers that because of these safety nets end up damaged in some way. Whether that is the fathers without children, the homeless ex-soldier, or the child without a father, they are all victims of a society that has over-zealously tried to protect those that they see as the weak to the detriment of others. Government provided securities come at a cost, a cost far too high for society. Sadly society never recognizes the cost until its too late.
Ten-Foured,
JeD